Counselling Services
Article available only in Malay.
Kaunseling adalah satu proses perhubungan menolong secara bersemuka di antara Pegawai Psikologi dan klien yang normal.
Sesi kaunseling boleh dijalankan dengan membuat temujanji melalui aplikasi e-KPA di laman web JPA, e-mel, telefon, surat atau secara walk-in ke Bahagian Pengurusan Psikologi, JPA.
Akta Kaunselor 1998 (Akta 580)
Ethical Principles of Psychologists and Code of Conduct, American Psychological Association, December 1992
General Guidelines for Providers of Psychological Services, American Psychological Association, 1987
Kod Etika Kaunselor, 1994 Persatuan Kaunseling Malaysia (PERKAMA).
Piawaian Amalan Kaunseling, Bahagian Perkhidmatan Psikologi, Cetakan 3 Tahun 2003 (terjemahan dari American Counseling Association, Code of Ethics and Standards of Practice, 1995)
Pekeliling Perkhidmatan Bilangan 18/2005 Panduan Aplikasi Psikologi Dalam Pengurusan Sumber Manusia Sektor Awam
Pekeliling Perkhidmatan Bilangan 5/2018 Garis Panduan Pengendalian Kes Gangguan Seksual di Tempat Kerja
Panduan Pegawai Psikologi Perkhidmatan Awam, Jabatan Perkhidmatan Awam 2008
Garis Panduan Penggunaan e-Psikologi dan Kod Etika Ujian Psikologi dalam Perkhidmatan Awam 2009.
Menetapkan tarikh dan masa untuk temu janji sesi kaunseling serta kesediaan Pegawai Psikologi untuk mengendalikan sesi kaunseling dalam tempoh tiga (3) hari bekerja dari tarikh Pegawai Psikologi menerima permohonan tertakluk kepada persetujuan dan kehadiran klien.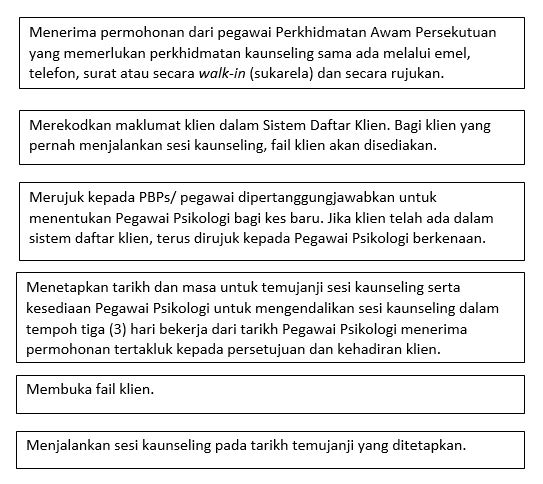 Layari e-Kaunseling Perkhidmatan Awam (www.interactive1.jpa.gov.my/ekpa) atau hantarkan emel ke This email address is being protected from spambots. You need JavaScript enabled to view it.
Hits: 5413