About Divisions
Public Sector Transformation Division
Realising PSD's role as the leader of public service transformation.
Providing consultation and advisory services on implementation of public service transformation to the ministries/government agencies.
Monitoring the implementation of public service transformation initiatives by the ministries / government agencies.
Reporting the progress of public service transformation implementation to the Prime Minister, Chief Secretary to the Government and Director-General of Public Service.
Hits: 6806
Psychology Management Service
Management Service Division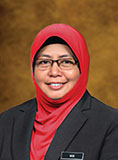 Datin Setia Nik Roslini binti Raja Ismail
This email address is being protected from spambots. You need JavaScript enabled to view it.
To manage the human resources and management services of the Department efficiently and effectively.
Manages PSD's personnel structuring and inspectorate.
Manages the placement and transfer of PSD officers.
Manages the training and competency development of PSD officers
Manages the training and competency development of PSD personnel.
Manages matters related to finance, procurement and development in PSD.
Manages the quality programmes in PSD.
Manages PSD's administration and logistics.
Manages the activities of Federal Territory Government Officers Welfare and Recreational Council (MAKSWIP) and PSD Club.
Coordinates the implementation of Human Resources Management Information System (HRMIS) Application in PSD.
Serves as the secretariat to the Human Resources Development Panel, Excellent Service Award (APC) Council, Disciplinary Board, Management Integrity Committee, and Departmental Joint Council (MBJ).
Hits: 14330
Development and Management of Strategic Information Division